internet & networking
Be the boss of your network with
SD-WAN
It's time you had a partner who helps you control your network, instead of the other way around. Save time, reduce hassle—with Frontier Managed SD-WAN.
your challenge
Traditional WAN is painfully complex. How will you manage more corporate users and remote workers?
Periodic outages? Slow performance? Firewall problems at different locations? You feel the pain of traditional WAN, and increasing demand makes managing your network even worse. 
Increased bandwidth demand, but not budget
Everyone needs more bandwidth to access apps. Not everyone can handle the expense.

So many locations, so many apps
Performance is an issue with uneven connectivity. You need visibility and remote access.

Hard to manage and scale
Multiple internet providers and countless devices make for more network complexity and less control in your hands.

Moving at the speed of change
Data, remote locations and security policy updates can take up to nine months—an eternity for any business.

The answer
Show your network who's in charge with SD-WAN
With Frontier SD-WAN, be on, be optimized, be in total control—and reduce the hassle of managing your network. With full visibility into network activity from a central location, you can act quickly to prioritize bandwidth, deploy new applications and provide the best possible user experiences at all times. All with a single provider.

The Frontier difference
Managed SD-WAN works for you-not the other way around
The Frontier Difference and Why It Matters

Centrally manage your entire network

Gain single-pane network visibility through Frontier's Managed SD-WAN customer portal, allowing a service provider to orchestrate and program flexible network solutions



Prioritize your business applications


Application-aware routing and traffic steering prioritizes business-critical applications

Protect and secure your network

Define a single security policy that can be distributed across all locations using Frontier's Managed SD-WAN

See value from day one

As a managed service, there are no upfront hardware costs-it's 100% operational expenses
99.99%
diversity on uplinks means no impact to your business even when one of your carriers is having problems.
2 weeks
average time it takes to go from shipping to activation.
45x faster
to implement policy changes with a single-policy orchestration using SD-WAN over traditional WAN.
Control with ease? That's a real thing.
Choose from flexible service-level options and get an expert guide to help you navigate the whole process, so you and your teams will be productive and operational from the start.
Is it included?
Fully managed SD-WAN

IT staff calls Frontier to make change




Co-managed SD WAN

IT staff can make changes

Customer portal

Fully meshed private network

SIP/ IP Connect gateway integration

Dual active/active configuration

Access Control List (ACL) to secure sensitive data
Enhanced SLAs


Choose from silver, gold, platinum


Proactive monitoring

Application-aware routing and dynamic traffic steering

Direct premium-level access to tech support

Detailed customer analytics, complete visibility and on-demand QOS reports

Advanced security between locations, cloud-based applications and remote users

Hardware agnostic with line rate performance

Microsegmentation, and always captures 1st packet

Spans across multi-cloud environment (private, public, hosted)

Spans across DataCenters (DCI) & WAN


High-scalability
INternet comparison
Broadband vs. Dedicated Internet 
Broadband
Dedicated Internet Access
100% Fiber-Optic Internet
Speed

Up to 2 Gigs

10 Mbps-10 Gbps

SLA

4 hour mean time to repair and
99.99% network availability

Dedicated 24/7/365 Monitoring
Bandwidth-Intensive Applications
Cloud-Based Applications
Dedicated Connection for Peak Performance

Best Use

Any size enterprise using cloud-based apps, IoT, POS and video applications
Any enterprise using cloud technology for business-critical, sensitive processes and bandwidth-heavy applications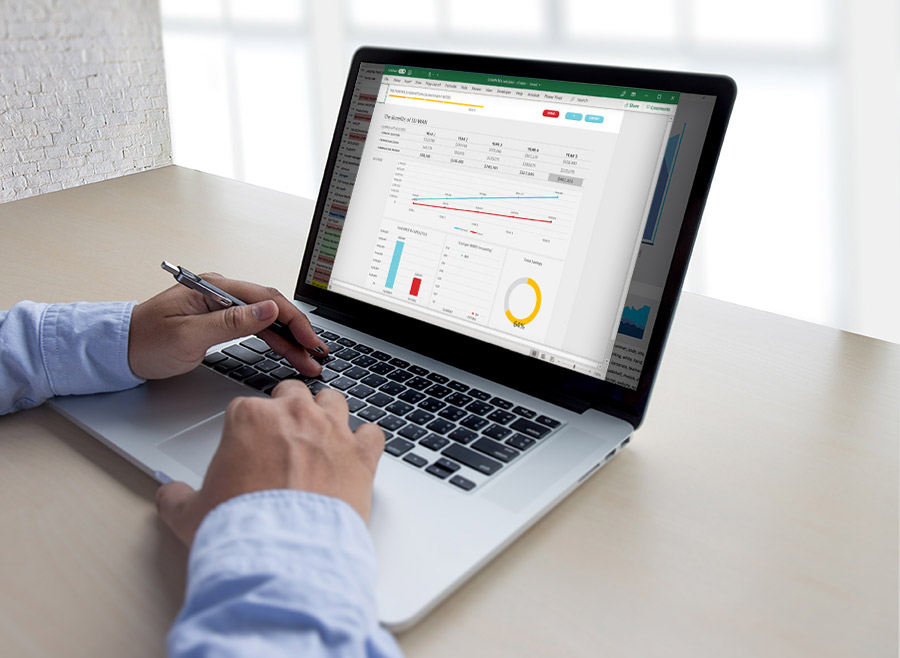 roi analysis
SD-WAN ROI? Let's do the math.
If you're considering the change to Managed SD-WAN, let us help make the decision even easier. Our free ROI analysis can start changing your network for the better right now. We give you a full, customized report, including OpEx, CapEx, YOY, monthly MBPS and total savings estimates.
MEF certified means a promise you can trust
We're a standards-based partner tested against the requirements defined in the Attributes and Service Standard. Long story short:
24/7/365 proactive monitoring by a dedicated team of expert partners
Competitive uptime when paired with our Managed SD-WAN Private Network